Keeping your office clean and organized! | Blackstone, MA
7/27/2020 (Permalink)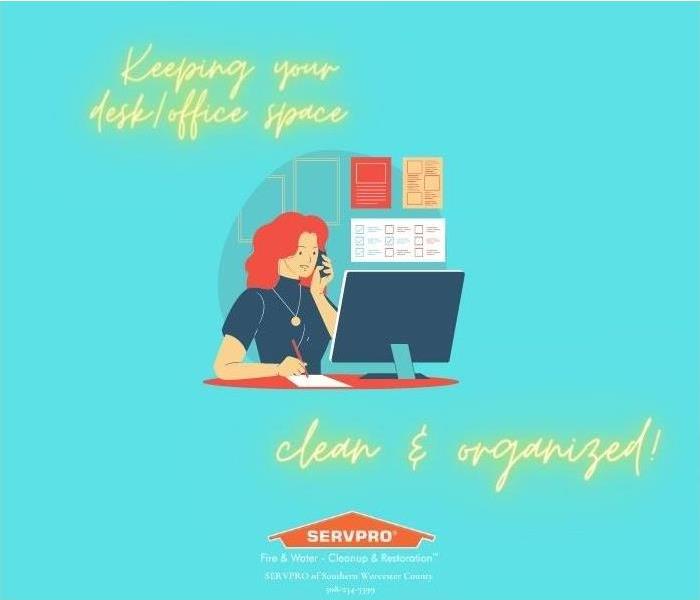 Commercial and residential water and fire cleanup and restoration - we are ready 24/7
Most of the time, we spend a ton of time in the office, so it's like a second home. Keeping your desk as clean as you keep your countertops at home is important for productivity and just overall environment! It's been shown that having a cluttered desk can cause stress and decrease productivity. Which makes sense, if you're shuffling through piles of paper every day to look for that one, you're doing less work and causing stress for yourself.
Keeping a checklist of daily tidying tasks can help you stay on track as well!
Clear your desk daily! After each workday, clear off your desk of any paperwork for the day, put it in it's own file folder, and recycle any paper you don't need anymore. Then, coming in tomorrow, you'll have a nice, clutter free desk!
Keep your electronics organized: In this day and age, it's not only important to have pens, pencils, highlighters... handy, but also our tablets, work cell phones, etc. Having these things at an arms reach, and organized will save you some time searching around for them.
Keep a cleaning cloth handy: Having the supplies on deck will help you actually get the simple cleaning tasks done. Say you're on a conference call, you can simply wipe your desk down in no time, and cross that off your checklist for the day!
Sticky notes, the MVP of office supplies! Sticky notes can not only be handy when you need to jot some things down quick, write a list, and clean your keyboard!
Use the sticky part to get any dirt, debris, or crumbs out of your keyboard. Keeping your keyboard clean is quite important to keep germs at bay. Especially during times like these.
It's recommended that you wipe down your keyboard with a disinfecting wipe at least once a week, but more is better! (During this COVID-19 pandemic, we would recommend every day, if not multiple times a day!)
Keep your chair/s clean and disinfected! Whether you're in an office by yourself that no clients see, or especially if you do have clients in your office, you'll want to clean your chairs regularly. Daily, or after each client, you should spray down your chairs with a disinfecting solution. Every month you should do a deeper clean for the chairs. First, you'll want to make sure you're using the proper technique. Most chairs will have a letter indicating what you can use to clean it.
W- you can spot clean the chair with water based products
S – you can use a solvent or water-free product. Such as a dry cleaning product
X – you can not clean this yourself, it has to be professionally cleaned
C – you can only clean this chair with a light brushing or use a vacuum. This can not be cleaned with water or solvent cleaners.
Try to keep a cleaning schedule for your office, it's basically your home for the day/work week, so you might as well keep it clean and tidy while you're there! Vacuum weekly, and pick up any spills right away, and remember to keep your space organized!!
If cleaning and sanitizing concerns go beyond what you can do or the janitorial staff can handle, give us a call at 508-234-3399, we'll get your office looking brand new and clean when we're done!!
We direct invoice with all insurance companies
Chubb
Preferred Mutual
USAA
Catholic Mutual
AMICA
Safety Insurance
Arabella Insurance
Bunker Hill Insurance Company
Peerless Insurance Company
Foremost Insurance Company
Safeco
New London Insurance
Liberty Mutual
Philadelphia Insurance
Modern Home
EMC Insurance Companies
Narragansett Bay Insurance Company
The Hartford
Pawtucket Mutual